WEBINAR
Lewy Body Disease: similarities and differences between
Lewy Body Dementia and Parkinson's disease
April 28, 2022


4.30 – 7 pm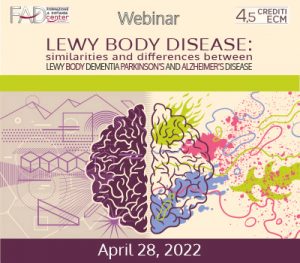 Official language • English
CME • The Webinar has been included in the Italian National program of Continuing Medical Education (CME), with 4,5 credits assigned for the profession of Psychologist and Medical Doctor with the following specialties: General Medicine, Internal Medicine, Physical Medicine and Rehabilitation, Neurophysiopathology, Neurology, Neuroradiology, Geriatrics, Psychiatry, Psychotherapy.
TEACHING METHODOLOGY •  Speakers and participants will be simultaneously connected, and the webinar will follow the scheduled scientific program.
The recording will be available for 3 days after the end of the webinar, to allow the participant to review the presentations and answer the CME questionnaire.
To obtain the CME certificate participants must attend 90% of the webinar and correctly answer to 75% of the questions.

REGISTRATION • Registration is free and includes participation to live sessions, the certificate of participation and the CME certificate (to those entitled to). Whomever interested must register on the following website https://www.centercongressifad.com.

28 Aprile 2022




16:30 - 19:00
Siamo spiacenti, ma tutti i biglietti in vendita sono terminati perché l'evento è scaduto.